Each year we produce an annual report that provides details of Dietitian Australia's performance over the last 12 months.
Our annual report provides an overview of our financial and non-financial performance and key achievements.
2021–22 Annual Report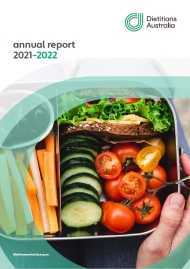 Our corporate and member policies. Download and view our current corporate documents.
Our strategic plan provides the framework for our operational planning to ensure Dietitians Australia delivers the best value for our members.
Dietitians Australia is the leading voice in nutrition and dietetics in Australia. Our mission is to champion the professional nutrition and dietetic workforce to empower people and communities.