Our senior management team support our board, staff and members. They work together to advocate for diet and nutrition issues affecting all Australians.
Read their profiles below or view our organisation chart. 
Chief Executive Officer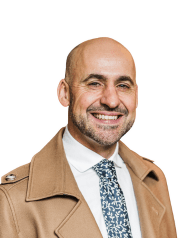 Marco Xuereb
Marco is a highly accomplished CEO and leader with over twenty year's experience in leading strategic organisational transformation. Appointed to the role of Chief Executive Officer in August 2023, Marco's career spans a wide range of leadership roles from Government departments, not-for-profit organisations and private for-profit organisations. Marco is a passionate health advocate, with a breadth of experience across the health sector particularly in disability and advocating for the inclusion of dietitians in multi-disciplinary approaches. Marco is committed and looking forward to growing the influence and capability of Dietitians Australia and the dietetic profession.
Contact Marco at ceo@dietitiansaustralia.org.au
Regulation General Manager
Bree Murray APD
As our General Manager of Regulation, Bree is focused on the quality and safety of the profession and creating a dietetic workforce that is responsive to community needs. Bree has over 20 years' experience in allied health, starting from her early days as a pharmacy assistant through to various roles in nutrition policy, food regulation and management. With a Masters in Nutrition and Dietetics, Bree has also worked in the communications, marketing and professional services areas of Dietitians Australia. When not at her desk, Bree enjoys running by the ocean, exploring local farmers markets and mastering new kitchen creations.
Contact Bree at regulation@dietitiansaustralia.org.au
Education Centre General Manager
Rebecca Mete APD
Rebecca is our Education General Manager, overseeing Dietitians Australia's events and Centre for Advanced Learning courses. Rebecca is passionate about creating evidence-based and life-long learning opportunities for dietitians. It's a passion she applies to her own life, as she works to complete her Doctor of Philosophy in Dietetics. When she's not studying or working, Rebecca enjoys cooking and sharing meals with her large family, as well as looking after her various fur and feathered babies on her rural property outside Canberra.
Contact Rebecca at eps@dietitiansaustralia.org.au
Advocacy and Policy General Manager
Nat Stapleton APD
Nat is our Advocacy and Policy General Manager, overseeing Dietitians Australia's policy and advocacy portfolio including submissions, stakeholder relations and position statements. She also oversees our Interest Groups and Branches. Nat is an Accredited Practising Dietitian with additional qualifications in exercise physiology and public health. She has previously worked across a range of functions at Dietitians Australia including credentialing, professional services and policy. She has worked as a dietitian and exercise physiologist in mental health. She also has experience in public health, nutrition policy and knowledge translation. Nat is passionate about improving the health and nutrition of the Australian population with a keen interest in public health, chronic disease, and health economics. Outside of work, Nat enjoys exercise, the snow and sea, and spending time with her family and friends.
Contact Nat at apmanager@dietitiansaustralia.org.au
Our Board is responsible for governing Dietitians Australia. Meet each of our Board Directors.
As Australia's peak body for dietitians, we provide support to more than 8000 members and raise awareness about the importance of nutrition in public health.
We celebrate our members and their contributions to the dietetics profession and Dietitians Australia.