Recipe courtesy of
Stephanie Savio, Accredited Practising Dietitian (APD) adapted from Colour of Maroc by Rob and Sophia Palmer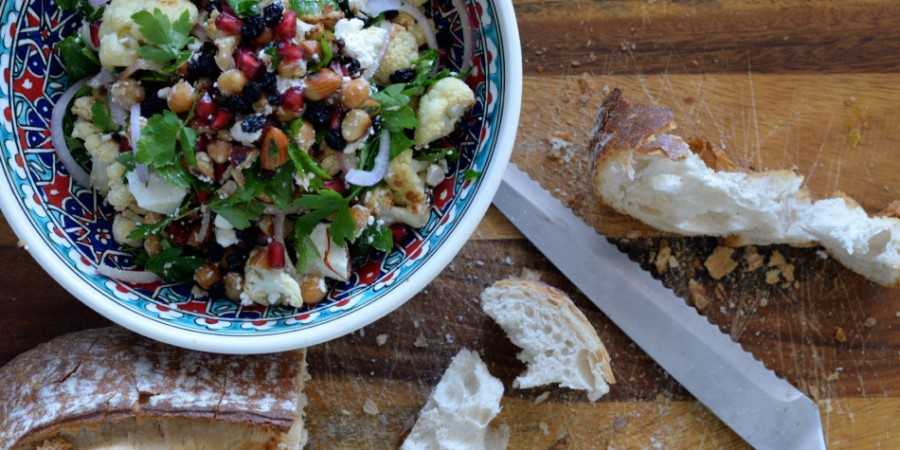 700g cauliflower (approx. one large head), chopped into small florets
400g tin chickpeas, drained
2 tbsp olive oil
½ red onion, finely sliced
½ bunch flat leaf parsley
½ cup roasted, unsalted almonds, roughly chopped
150g Danish feta, broken into chunks
arils from ½ a pomegranate, optional
DRESSING
½ tsp saffron threads
1 tbsp boiling water
3 tbsp extra virgin olive oil
2 tbsp red wine vinegar
2 tbsp currants
Preheat oven to 190°C.
Drain chickpeas from tin and pat with a paper towel to dry the excess liquid.
Place the chickpeas and cauliflower florets in a large bowl, add the olive oil and toss well to combine.
Transfer the cauliflower and chickpea mixture to a baking tray and spread out into a single layer. Bake in the oven for about 20 minutes or until golden and the cauliflower is tender. The chickpeas should become crisp and slightly crunchy.
To make the dressing, place saffron in a small bowl and add boiling water. Steep for five minutes. Whisk in oil and vinegar until well combined, then stir in currants and set aside. Stir well before serving.
Once cauliflower is golden and tender, remove from the oven and place warm cauliflower and chickpea mixture in your serving bowl.
Add the red onion, parsley and almonds, pour over the dressing and toss to combine. Sprinkle with feta and pomegranate (if using) and serve.
Nutritional information is provided per serve

| | |
| --- | --- |
| Engery | 3281kJ (784 calories) |
| Protein | 23g |
| Saturated Fat | 11g |
| Total Fat | 55g |
| Carbohydrates | 39g |
| Sugars | 21g |
| Dietary Fibre | 17g |
| Sodium | 1039mg |