Monday 20 - Sunday 26 March 2023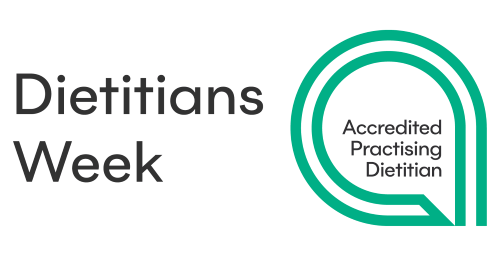 #DidYouKnow #DietitiansImproveLives
Download the Dietitians Week Toolkit
Win the chance to see an APD with costs refunded
This Dietitians Week our #DietitiansImproveLives theme is back, with a #DidYouKnow 2023 twist.
Help us spread awareness about what it is dietitians do and how they improve our lives. Support our leading voice and help us highlight:
 the many roles dietitians play everyday and how they bring unique value to our lives through a broad range of work areas
 how you can connect with the best local dietitian for your unique lifestyle and needs
 ways you can help spread awareness and raise the voice of dietitians.
Find resources designed by dietitians to help you spread your message, from our toolkit.
"Why should people reach out to, or hire a dietitian if they don't understand their true value? This is why it's so important to get involved in Dietitians Week - a time where we can all come together to raise awareness about what we do and how we make a difference"

- Zoe, Accredited Practising Dietitian working in community health
Get involved in Dietitians Week. Know your worth. 
Whether you're a dietitian, or supportive of dietitians, Dietitians Week is about celebrating your impact. Know, and show your worth. 
Commit to improving your life. Reach out to a dietitian (we can help)
Raise awareness. Teach your children about the importance of healthy eating, encourage friends and family to put their health first
Spread the word. Use your #DietitiansWeek2023 digital toolkit to help share the value of dietitians and let people know about the great work dietitians do across many practise areas and health conditions
Raise your voice for dietitians. Share Dietitians Australia's social media posts with your networks. Let's remind Australia about the vital role dietitians play in our communities!
Download the Dietitians Week Toolkit
No matter how you decide to take part in Dietitians Week, we want to hear what you're up to. Share your activities to social media during the week with #DidYouKnow #DietitiansImproveLives and #DietitiansWeek2023. 
Are you a dietitian? 
Dietitians Week is the time to talk about your role! What do you do? How do you improve lives through the difference you make? This is the time to use our leading voice to increase visibility of Dietitians to show the value and impact you have every day.
Win a free Evergreen Course 
Take a photograph! Wear your APD pin and share your best #DidYouKnow fact about nutrition, or, how you are proud to improve lives as a dietitian
Include the hashtag!  #DietitiansWeek2023 and #DidYouKnow #DietitiansImproveLives, mention @dietitiansaus, and tag 3 dietitian friends.
Click to Post! You'll go in the draw to win free CPD (valued at up to $480).
Why a dietitian?
See a dietitian and have out-of-pocket costs refunded
When it comes to managing lifestyle through food and nutrition, a dietitian should be your first port of call. Ongoing and specialised education ensures dietitians are the reliable choice for life-changing food and nutrition support. Because we all have our own unique goals, challenges and lifestyles, Accredited Practising Dietitians understand that our health is not a one-size fits all approach. They are trained to offer personalised health advice that is fine-tuned to your specific needs.  
About Dietitians Week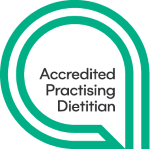 Dietitians Week is an annual awareness event hosted by Dietitians Australia and supported by dietitians around the country. 
Dietitians Week highlights:  
the many roles dietitians play
how dietitians bring unique value to our lives through a range of work areas 
how you can connect with the best local dietitian for your unique lifestyle and needs 
ways you can help spread awareness and help to raise the voice of dietitians.
Dietitians support people everyday in a range of ways. They work in clinics and hospitals, schools and aged care centres, on sporting teams, in universities and policy roles, in the media and so much more. 
Dietitians Week raises awareness for how Accredited Practising Dietitians – the gold standard dietitian in Australia – help individuals and communities lead healthier and happier lives.
Dietitians treat a range of health conditions. They understand how nutrition affects the body and will give you expert nutrition and dietary advice.
Seeing a dietitian will help you improve your health and wellbeing. You'll learn how to eat better and manage health conditions through good nutrition.