In Australia there is a difference between a dietitian and other nutritional health providers including nutritionists.
All dietitians are nutritionists, but nutritionists without a dietetics qualification can't call themselves a dietitian.
While the definition of a dietitian and nutritionist are similar, there are differences in qualifications and regulation.
Dietitian vs nutritionist
As a profession, nutritionists aren't regulated and can have limited qualifications.
The dietetic profession is regulated. Most dietitians have graduated with an approved dietetics degree from an Australian university.
Dietitians with the Accredited Practising Dietitian (APD) credential commit to ongoing training and education throughout their careers. They adhere to our code of conduct. Dietitians have the knowledge and skills found in the National Competency Standards for Dietitians.
It's important to check the credentials of your healthcare provider before making an appointment.
You can check a dietitian's credentials using our Register of Accredited Practising Dietitians.
Accredited Practising Dietitians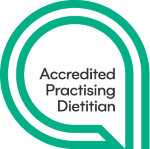 Most qualified dietitians are eligible to join the APD Program.
Medicare, the Department of Veterans' Affairs (DVA) and many private health insurers recognise the APD credential.
If you have a chronic health condition and a care plan from your GP, you may be able to claim a Medicare rebate when you see an APD.
Learn more about help with costs when seeing a dietitian.
Profession of dietetics
The main purpose of people working in the profession of dietetics is embodied in this statement:
The profession of dietetics contributes to the promotion of health and the prevention and treatment of illness by optimising the nutrition of populations, communities and individuals. Dietitians have a defined and recognisable body of knowledge and utilise scientific principles and methods in the study of nutrition and dietetics, applying these results to influence the wider environment affecting food intake and eating behaviour. The scope of dietetic practice is such that dietitians may work in a variety of settings and have a variety of work functions.
[Ratified by the Dietitians Association of Australia Board June 2013 – Revised June 2015]
Definition of a dietitian
Here's how we define a dietitian.
A professional who applies the science of food and nutrition to promote health, prevent and treat disease to optimise the health of individuals, groups, communities and populations.
[Definition of Dietitian-Nutritionist, ICDA By-Law – September 2016]
This is consistent with the international definition of dietetics set in 2014 by the International Confederation of Dietetic Associations (ICDA), of which we are a member organisation.
Dietitians treat a range of health conditions. They understand how nutrition affects the body and will give you expert nutrition and dietary advice.
Seeing a dietitian will help you improve your health and wellbeing. You'll learn how to eat better and manage health conditions through good nutrition.
Find out about Medicare, private health insurance and other rebates available when seeing a dietitian.