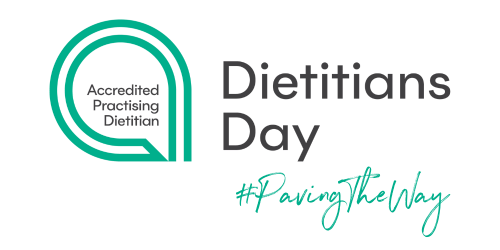 19 September 2023
Are you a dietitian? Discover how to get involved in Dietitians Day via your member portal.
About Dietitians Day 
Dietitians Day is an annual celebration in September hosted by Dietitians Australia and supported by dietitians around the country.
The 2023 theme #PavingTheWay encourages Accredited Practising Dietitians to celebrate their impact on Australia's health and wellbeing. Reflecting on their own stories, who has lead them to become the dietitian that they are today?
If you know a dietitian, Dietitians Day is the time to thank them for the difference they make.
Dietitians Australia Members, find out how to get involved
Why a dietitian? 
When it comes to managing lifestyle through food and nutrition, a dietitian should be your first port of call. Ongoing and specialised training ensures dietitians are the reliable choice for life-changing food and nutrition support. Because we all have our own unique goals, challenges and lifestyles, APDs understand that our health is not a one-size fits all approach. They are trained to offer personalised health advice that is fine-tuned to your specific needs.
Dietitians treat a range of health conditions. They understand how nutrition affects the body and will give you expert nutrition and dietary advice.
Seeing a dietitian will help you improve your health and wellbeing. You'll learn how to eat better and manage health conditions through good nutrition.